Our favorite forum
Our blogging friends

Wednesday, July 16, 2008
I arrived on Thursday at 2 pm to meet my friend Renee and her friend Megan at their Terminal at Logan Airport to catch a taxi to our hotel. For the record, we stayed at the Westin Waterfront and not the Westin Coplay as the taxi driver thought. Here is our rooms view:
As we settled in we started our tour of the convention. Our hotel was not as convenient as we would have liked but it did give us tons of exercise during our stay. As we walked through, I introduced myself to Coleen from the Delaware Down Syndrome Group whom I went to High School with. She has a son with Down Syndrome and I always get updates on them from my friend Jen. She joined the NDSC this year to organize the Convention and she did a wonderful job.
As the day progressed, our friends started to arrive. We decided to go to the original Cheers for dinner. My friend Bethany plugged in the address into her navigational system 84 Beacon Street....and to our dismay this was 84 Beacon Street:
Because our trip to 84 Beacon St took so long Bethany's kids were tuckered out so we dropped them back off at the hotel and took a taxi with some more friends out to Cheers....the taxi driver had a much easier time finding the place.
Shylo, Bethany, Renee, Megan, McKenna and me
Friday morning I got up early and headed to the Pre-Conference to see the class "Supporting Membership, Participation, and Learning for Students with DS in Inclusive Classrooms" by Cheryl Jorgensen from University of New Hampshire. It was an awesome class and Dr. Jorgensen was amazing and truly gave me the AH HA moment I wanted....I totally understood the true meaning of inclusion when it was all over. I will be forever greatful for her teaching me that. Friday class was all day long but for Lunch I went and meet with some old but dear friends. I had a wonderful time.
Friday night was our Downsyn Dinner. For those new to my blog, downsyn was the 1st place I went after Megan was born. It is safe to say without downsyn there would have been no Convention, no blog, no experiences.
Downsyn
is it for me, downsyn is my link to all things DS! And here is a picture of the man responsible for all of my BEST FRRIENDS (him included) and his son Mikey, the inspiration for it all. I am not sure if
Tom
can actually wrap his head around all he has created.
Here is my girl Lisa and I. I so was looking forward to spending time with Lisa and her family but the weekend seemed to sneak away from me! I love you!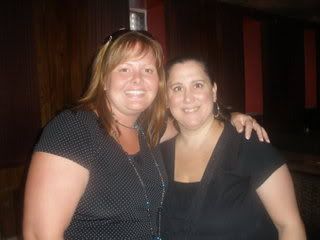 Here I am with
Kristen
and Ann. They are 2 of the awesomest mom's on the planet club. The 2 of them inspire me everyday.
Saturday was spent in classes and on a tour boat. It was so much fun touring the Charles River with Renee, Megan and Kris...we learned a lot about Boston. Do not rub the foot of John Harvard.
Also on Saturday I got to meet Karen Gaffeny (
Crossing Tahoe
), Kathryn Soper (editor of
Gifts
) and go to the Dance and see all the cute kids dancing.
Sorry this is out of focus but this is baby Vinnie and he is so adorable!
Sunday was spent waking and leaving behind a weekend full of what I wish everyday life was...a time to spend with best friends and be in a place where stares are good and people are genuine.
Thank Goodness for the Convention, see you all in Sacramento in 2009.